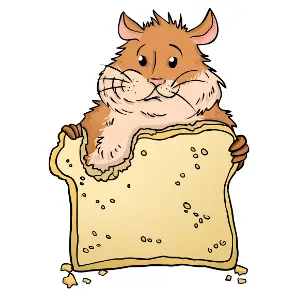 Yes, hamsters can eat bread! Though we only recommend feeding small amounts of brown bread as a treat.
Although hamsters can eat bread, it isn't particularly good for them. You should think carefully before adding treats like bread into your hamster's diet.
Always take care to ensure that your hamster is eating a healthy, balanced diet, without too many unhealthy treats.
If you want to feed bread to your hamster then we recommend avoiding white bread, because of its high sugar content, and sticking to brown bread instead.
You can try feeding small pieces of the crust to your hamster, soaking the bread in milk, or even toasting it. Most hamsters will love these little treats!
However, as bread isn't very good for your hamster, you should only feed it in very small quantities, if at all…
Given the huge range of other things that hamsters can eat – from carrots to grapes, to meat – there's not really any reason to include bread in their diet, so you may be safer to sticking to other more healthy options.